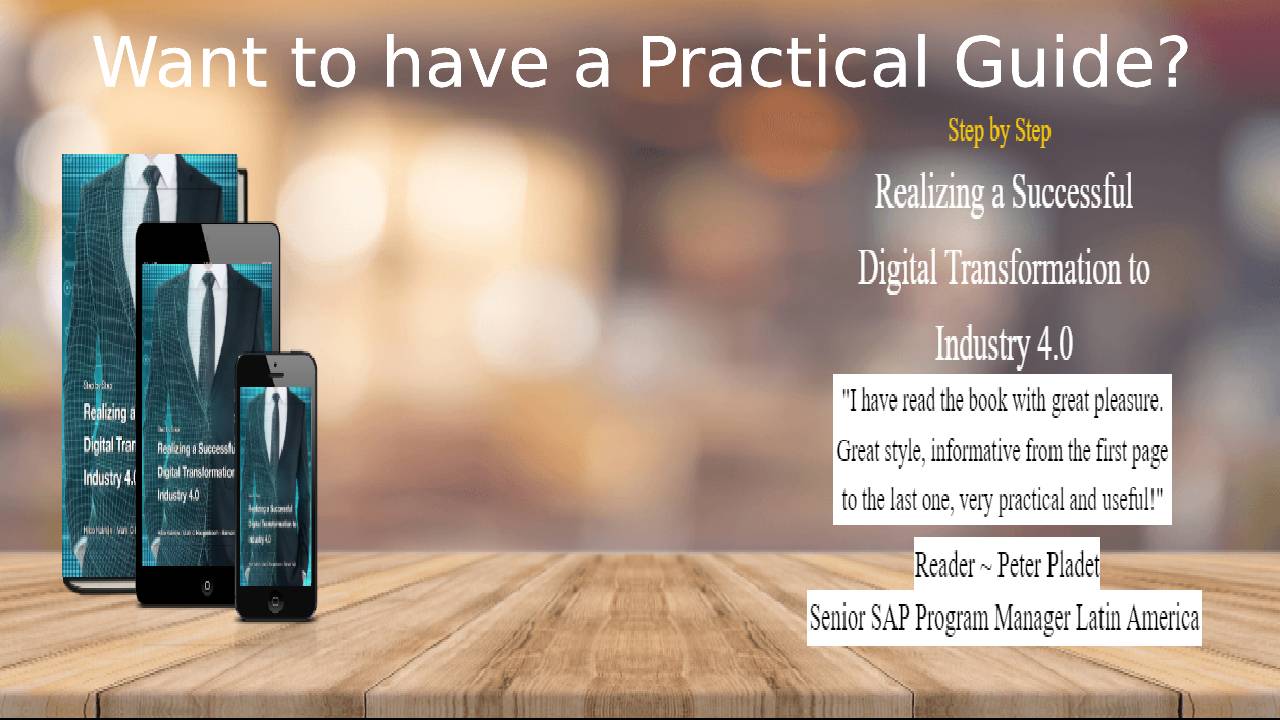 General
Our book with the title: 'Step by step realizing a successful digital transformation to industry 4.0', ISBN: 978-94-91779-14-5, is about providing a practical guide to companies to support you with your Digital Transformations to Industry 4.0. The book is explaining the HOW of the Transformation and not the WHAT. It is about the people/organization that need to change. We have written this book with our 35+ years of experience in the back of our minds knowing and understanding what works and what doesn't work. Therefore it will provide a practical method for you to perform successful (Digital) Transformations.
We also understand that the book is describing the theory based on our best practices. However we are also very confident based on our track records that we can support you and your company realizing a successful Digital Transformation to Industry 4.0 and therefore we developed Services, Trainings and Tools which will provide this support and will enable you to bring everything into practice.
Testimonials
Great book, I found the mix of real best practices and 'tips and tricks' from a human perspective really interesting. It also provides a good method to perform a sanity check on the programs I am working on.
Koen Vranken, Director, Head of Continuous Improvement & Transformation, Euroclear SA/NV
"I have read the book with great pleasure. Great style, informative from the first page to the last one, very practical and useful!"
Peter Pladet, Senior SAP Program Manager Latin America
"An easy reading and practical book which I could immediately use and successfully put into practice at my customer"
David Veldt, Marketing Strategist
"The book is very easy to read and it's really a guide that helps any organization to take the right steps to a digital transformation."
Rita Conceicao, Service Delivery Advisor, Cargill
Order the (E-)book(s) below
For customers from the Netherlands; Please visit the following link to order the hardcover book:
https://www.kirjaboek.nl/proddetail.asp?prod=boek_3297
For international customers; Please place your order for the hardcover book below:
Price for hardcover book: € 30.80*
*VAT included and shipping costs excluded