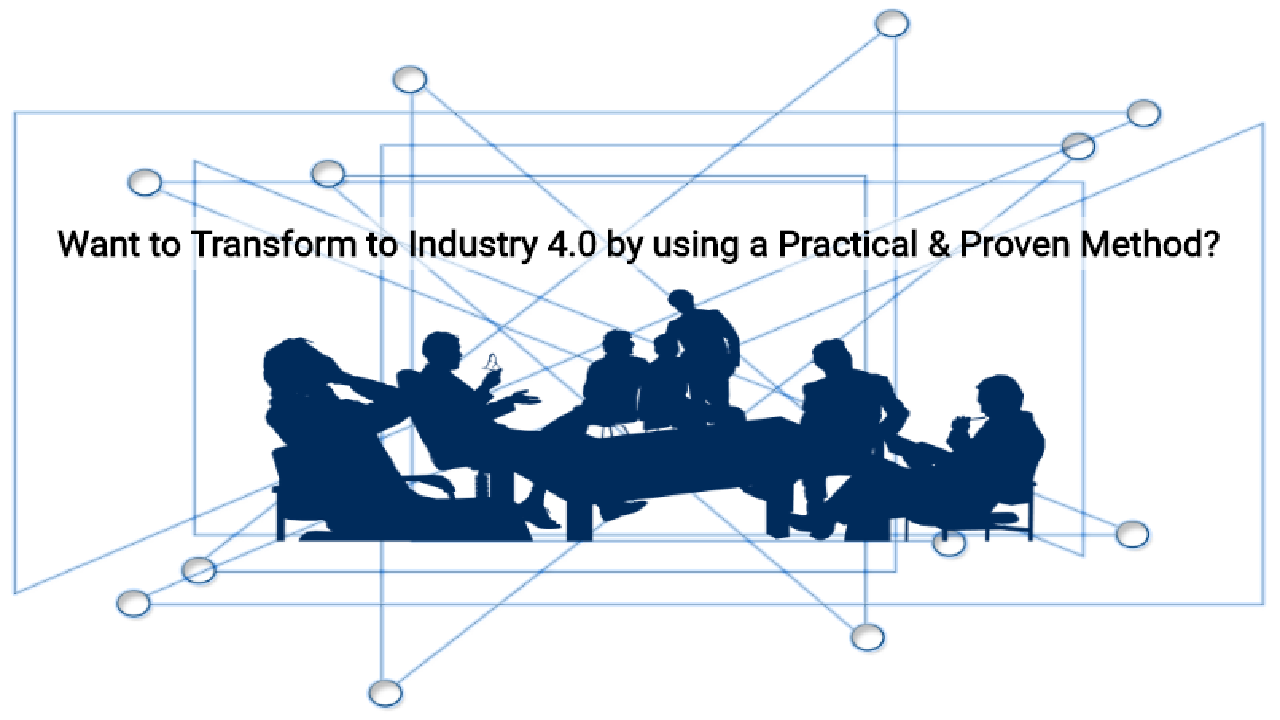 General Description of the Services
Our services will provide you with a practical way forward to a successful, (Digital) Transformation to Industry 4.0, Continuous Improvement Program or any other Complex (Change) Program.
We have a long track record of running large and complex programs for government, companies and big multinationals, where we have used our best practices to achieve the best results needed.
In order to provide these results, we created workshops and tools to support us running our programs. These workshops worked so well that we decided to create repeatable workshops as services which would more or less ensure the results needed because they are proven during real life programs.
The combination of our services and tools is very powerful and will provide you with the results that are needed to be successful in Digital Transformations, Continuous Improvements, or Complex (Change) Programs.
The services always will be fine-tuned specific for your organization to provide you the best possible fit. An alternative is to have tailor made workshops to perfectly fit your organization's requirements.
We also developed a training program to become a Transformation Expert and/or Transformation Master which enables you to get well prepared for conducting (Digital) Transformations, Continuous Improvement Programs or Complex (Change) Programs.
TS000: Digital Transformation Readiness Assessment
This service investigates the readiness of the organization by assessing documentation, conducting interviews and using our Digital Transformation Readiness Checklist. It is a part time low visibility assessment to understand the sense of urgency, ability and readiness of the organization to start a digital transformation.
TS001: CxO workshop How to Start-up Digital Transformation
This is the start of any transformation. This workshop is used to select a Transformation Owner and to create awareness at CxO level. It helps to define what needs to be done to successfully start and perform a (Digital) Transformation that will enable you to be successful in transforming your business.
TS002: Set-up workshops to implement a program that will realize a successful Digital Transformation
These are the series of Digital Transformation workshops that will create an up and running Digital Transformation Program. These workshops are the next step after the TS001 workshop. There will be close cooperation with the Transformation Owner and the Transformation Manager to ensure the best sustainable results possible. Please be aware that the careful selection of Transformation Manager, the Transformation Lead(s) and the team can take some time.
TS003: Multicultural workshop
This workshop will create a global distributed team with different cultural backgrounds which will be very useful if your Transformation team is across the globe. This workshop can be performed after the TS002 workshop. It can be very useful as a standalone workshop to create teams with a different background across different countries (For example teams from Europe and India) which will improve the performance of your teams.
TS004: Continuous Improvement workshops
These workshops are needed to keep the Digital Transformation going after the Program achieved its goals. It empowers your production teams on the work floor to keep improving in a Scrum/Agile way which will benefit your company in several ways and improves the output results. This workshop can be performed after the TS002 workshop. It can be very useful as a standalone workshop to implement a Continuous Improvement program. Your production teams are empowered and can work in a Scrum and Agile way on impediments that are blocking or hindering their daily work. These workshops are designed to keep the improvements from your team(s) going.
TS005: Assessment services
This service is used during TS002 but can also be used as a standalone service. This service is very useful to understand which skills and capabilities are needed to run Programs and Projects successfully.
TS006: Implementation services
This service can be used to fill in the position of Transformation Manager, Program Manager, Change Manager for any kind of Program. We can also support you by coaching and guiding the Transformation Manager, Program Manager and/or Change Manager.
TS007: Tailor made In-House Transformation Workshops
This service consists of a workshop assessing the needs of your company and thus creating tailor made workshop(s) meeting all the requirements.
TS008: Core Transformation team building Workshop
This service will build a Core Team which will work as a team or it will improve an existing Core Team that needs to start working as an effective Transformation guiding team. This service can also be used to create or improve other Core Team(s)
TS009: Full Transformation Team building workshop (Core Team + additional team members)
This service will create a team which will work as a Transformation Team. This service can also be used to create other Team(s)